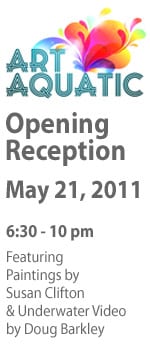 (Pompano Beach, FL) – Web designer and local artist Susan Clifton will curate Art Aquatic, a mixed media exhibition of original paintings and video work at the Pompano City Centre Mall May 21 through June 4, 2011 made possible through a grant from the Broward County Cultural Division. In addition to her sea life themed acrylic paintings, an installation of paintings that incorporate Doug Barkley's underwater video work will also be on display.
Opening night will coincide with Art Night Pompano, which will also be held at the mall. Live music and refreshments will be on hand opening night, May 21st, from 6:30 to 10 pm. Following the opening, the exhibit will be open 10 am until 6 pm Monday through Saturday through June 4th. There is no charge for admission.
Barkley, owner of Video Dude Productions and an avid scuba diver and well-known underwater videographer, has produced a number of underwater documentaries including one most recently for National Geographic.
Clifton's desire to showcase the beauty of Florida's underwater world led her to apply for the Broward County grant and hopes to expose the fishing / boating / water sports enthusiast to more cultural activities such as this.
"The beauty of the sea and life below the surface is nature's art," Clifton said. "I chose Pompano Beach for the project location because there are very few art exhibits in the area. I feel that an exhibit of this type…will help to educate the public and make them better aware of the beauty that can be found just off shore."
A long time resident of Ft. Lauderdale with a successful business as a web designer, Clifton has been in the graphic arts field for more than 30 years. She studied art at the Philadelphia College of Art and Moore College of Art where she realized her talent as a painter. After college, she landed a job with a fashion advertising agency in New York where she worked with such photography icons as Richard Avedon and Francesco Scavullo. She later started her own advertising agency in New York and then moved to Florida in 1987 where she designed catalogs for a number of fashion retailers including Lillie Rubin and Swim 'n Sport. As the Internet grew in popularity and importance, Clifton decided to focus on web design, and it wasn't until five years ago that she started to paint again. Since then she has had several gallery shows and has been an active participant in the arts community serving as vice president of the South Florida Artists Association, and is committed to bringing new business opportunities to South Florida artists.
For more information about the Art Aquatic exhibition please contact Susan Clifton at (954) 782-9887, susan@clifton.com, or go to www.artaquatic.com.