Contemporary mixed media artist | Susan Clifton
Susan Clifton, a contemporary mixed media artist, 
has always been viewed as a born artist in her work, as well as in her temperament. As a child in South Philadelphia she was always "creating" with found materials, mostly paper brought home by her mother who worked in a printing company. Her kindergarten teacher complained to her parents that she didn't want to share the easel with the other students. They bought her an easel and encouraged her throughout her life in her artistic pursuits.
Her childhood was divided between art and dance.  Susan studied at a local South Philadelphia dance school and by the age of 12 was the owner's assistant teacher.  She auditioned for a few non-union touring productions of Broadway musicals but dropped her pursuit of a career as a gypsy dancer for art college. She enrolled at Philadelphia College of Art (PCA) in the early 1970's. After just two years she decided to leave school for a job in New York City in fashion advertising.
Susan's move to New York City was a good decision. She found success early in her career as an Art Director working on such campaigns as "Danskin's are not just for Dancing", "When your own initials are enough, Bottega Veneta", and What becomes a Legend Most, Blackglama". Jane Trahey, who was the first woman to own her own advertising agency, was her mentor and the two created great campaigns for Famolare Shoes, Fashion Fair Cosmetics and Adrien Arpel. Susan won awards for "Footloose and Famolare" and was featured in Art Directors Magazine. All this before turning 30.
Other mentors at that time were the great photographers Richard Avedon and Saul Leiter. Working closely with both of them heightened her sense of composition and helped her understand the importance of a unique vision.  During this time Susan studied photography at School of Visual Arts. This further honed her skill of composition. 
In the mid-eighties Susan decided to make the move to South Florida. She started a new business and landed her first fashion account in Miami. Lillie Rubin had stores in 86 shopping malls across the country and Susan produced fashion catalogs for them over the next 10 years. She also created catalogs for Swim 'n Sport, also located in Miami. By the mid nineties it was time to reinvent herself again. The internet was a new medium and she was an early adopter. She made the move from print design to web design and never looked back.
During her time in the commercial world of advertising and design, Susan continued to paint in the evenings and on weekends. Her work in the early years was a continuation of her work while at PCA, flat color figurative work and stitched together canvases. She did not pursue a career as a painter at that time. Her artwork took her away from the commercial work of her 9 to 5 life and the fear of bringing her artwork into a commercial realm frightened her.  As her work matured she began to think that her true purpose all along was to be a fine artist.
She increased her art production time and started entering local exhibitions in Broward County, Florida.  Early works exhibited were mirror-image florals and aquatic art inspired by her husbands underwater video experiences. As her work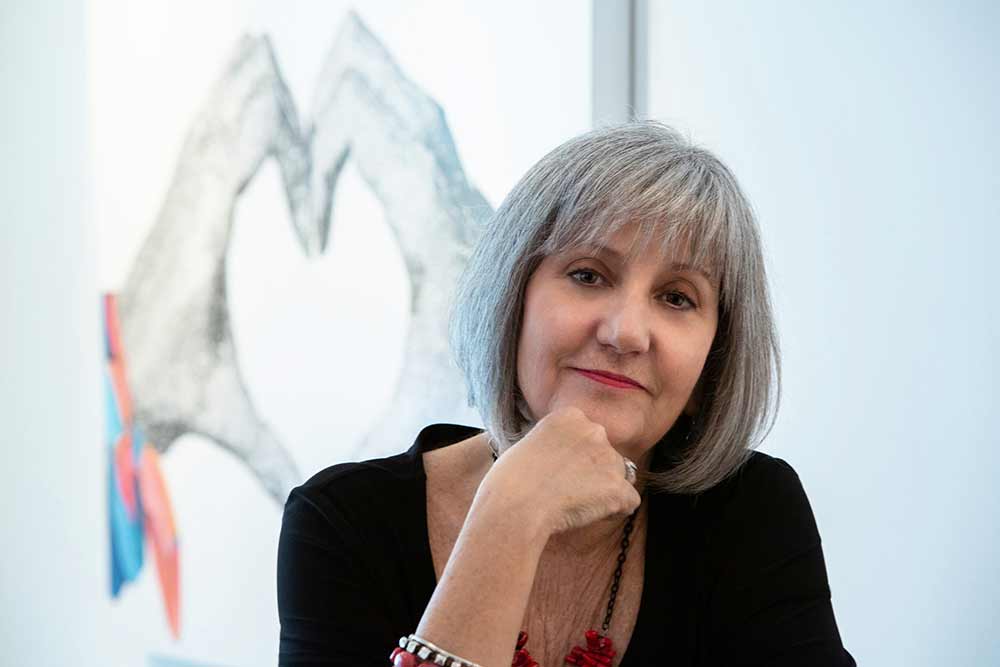 Susan Clifton
Contemporary Mixed Media Artist
evolved she began to combine the floral images with thought concepts. Her latest series, "Grey Matter," is intended to inspire and promote better self-talk. Susan's favorite department in any bookstore was always the self-help section. Her continued interest in that subject combined with her interest in women's issues is a major influence in her current work. She is inspired by the thought leaders of yesterday and today.  Worthiness, letting go and inspiration are some of the subjects included in her artwork. Her artwork is truly unique… fabric mosaic on canvas. Susan starts with the theme and writes a few quotes on the subject. She then has custom fabric made with the quotes printed in shades of grey. To create her figures it takes hours of cutting and pasting pieces of fabric in just the right shade of grey. It's like putting a puzzle together. Frequently her backgrounds include a floral painting. She works in acrylic because the colors are vibrant. Susan prefers her work to be happy, cheerful and with a positive outlook.
Susan took a little detour on Grey Matter a few years ago after she was selected to represent Florida in a deck of playing cards called "Art in Hand, the U.S.A. Project". She created Zelda, her fabulous pink flamingo. The painting was selected as the Two of Clubs, and is featured on the box and by the website Fab.com. The cards are sold in gift & museum shops across the country. She painted a few more animals to please curators.
Susan is very involved in the local South Florida artist community and serves as vice president of South Florida Artists Association.  In 2011 she received an Individual Artist Grant from the Broward County Cultural Division that resulted in an exhibition called "Art Aquatic". Also granted through Broward County, she participate in two workshops with the Creative Capital, Internet for Artists and You are your Brand.
In 2018 Susan was selected as an Artist in Residence at the Bailey Contemporary Arts in Pompano Beach, Florida. She used that opportunity to take her art business to a new level of success. The increased exposure in the community has inspired her to increase her exposure online as well. Susan launched an online store for her art prints and originals and in 2020 began a YouTube Channel. Her Channel has grown to over 7,000 subscribers and she is already finding ways to harness that growth. Stay Tuned!