Inspirational Artist Susan Clifton
I aspire to inspire. I'm an inspirational artist whose work includes affirmations. Affirmations can help us change our mindset. I use words in the form of fabric mosaics to create the figures or hands in my art.
For those of you who do not know me, I'm a relocated New York Artist living in the paradise we call South Florida. The decision to move here to Pompano Beach was a good one. In Broward County we have a very active arts community. The County supports us in many ways and there are many arts organizations that exhibit, educate and support us.
My Background
I studied at both Philadelphia College of Art and School of Visual Arts in New York City. I'm a graphic designer as well as a visual artist and have spent my entire life working as a creative.  I designed and created this website as well. My  love of technology, you might call it an obsession, lead me to use it in my creative process. The paper prints sold on this website are printed by me using a Canon Pixma Pro 100 with archival inks.
Below is my video on how I create my inspirational artwork.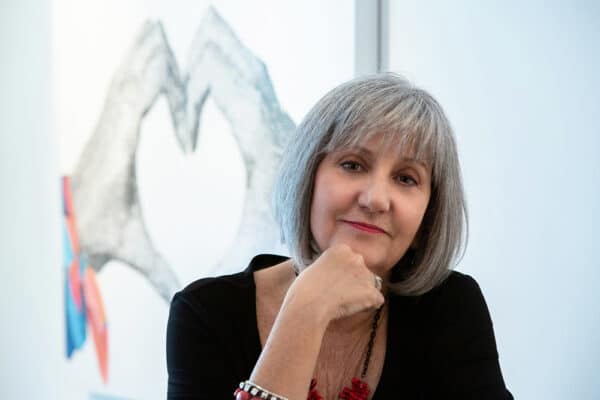 Inspirational Artist Susan Clifton's YouTube Channel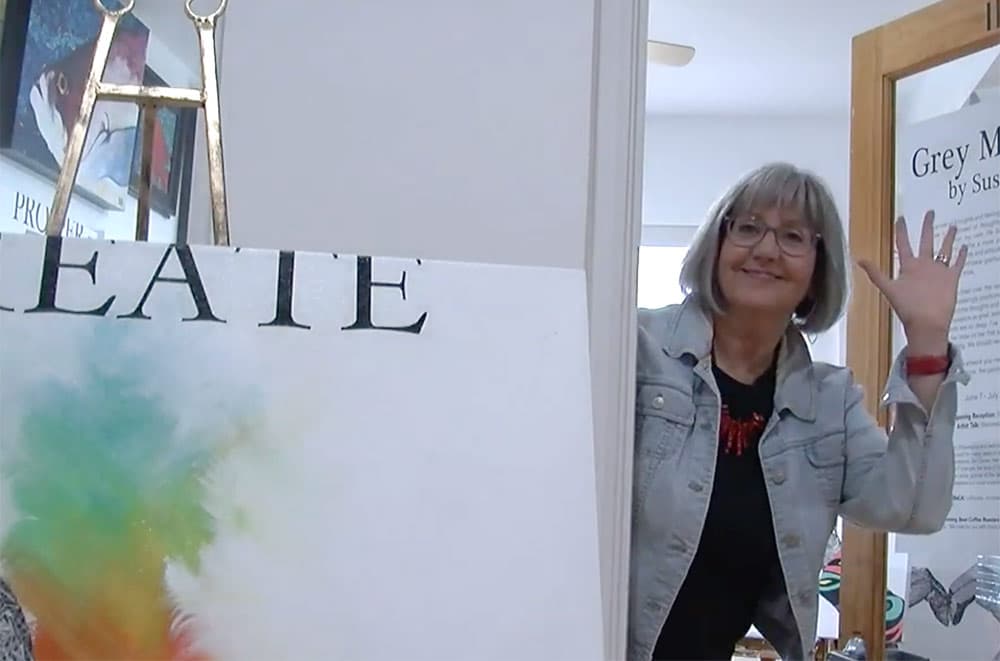 Artist in Residence
I'm currently an Artist in Residence at BaCA, Bailey Contemporary Art Center in Pompano Beach. My studio is on the second floor and although it's small I have enough room to store my work and supplies still leaving me enough room to work. The creative atmosphere of the art center inspires me greatly. Much of my art is also exhibited throughout the second floor. BaCA is open to the public Tuesday through Saturday from 10am to 6pm.
If you want to have a studio visit with me I would appreciate you contact me for an appointment.
My Original Art
Most of my canvases are hand stretched by me. Some are store bought canvases. I prefer the feel of the hand gessoed canvas over the pre-gessoed canvas that you find in art stores. The sizes range from 24×24 inches to 30×60 inches. All are 1.24 inch thick stretcher bars with gallery wrap, so framing is optional.
My process
With my artwork I Aspire to create inspirational art. I do that with affirmations built into the art. It's hard to understand from photographs what my artwork is about or how it is actually created. Some people think it's newspaper that has been cut up and glued on to the canvas and some think I draw lines to create shapes and aren't even aware that there are words on the canvas. I created a video that shows the process, I'd love your feedback on my first attempt at explaining my work.
Things to know about the artwork
• They're created with Fabric Mosaic
• The fabric is printed with positive affirmations
• The fabric is cut with a cutting wheel
• Each piece is put on one at a time
• Gel medium is used for the glue
• The original paintings are on canvas
• Each painting has it's own theme
Things to know about me
• I have a lot of patience
• I'm inspired by thought leaders
• I do a lot of work on myself
• Which leads to ideas for paintings
• I'm a serial entreprenuer
• Creativity is at my core
• I Aspire to Inspire!
Original Artworks Available
at Shop.SusanClifton.com