Making Collage Papers: In this video I'm going to make gelli print papers in shades of pink.
So why pink? I'm planning a flamingo painting and the entire mosaic part is going to be gelli print papers and I'm going to need three shades of pink.
The background will be painted and the green monstera leaf will also be green papers so I'm just going to work work work to make gelli prints, experimenting with stamps and with masks and with stencils and see what we come up with and then I will just talk over it I'll speed it up a little bit.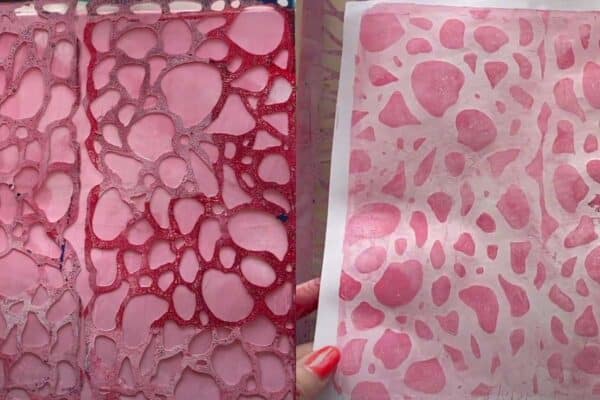 These are the colors I'll be working with while making collage papers:
Titanium White Golden Fluid Acrylics
Primary Magenta Golden Fluid Acrylics
Alizarin Crimson Hue Golden Fluid Acrylics
Naphthol Red Medium Golden Fluid Acrylics:
Violet Oxide Golden Fluid Acrylics
I'm starting out by creating backgrounds in the different shades of pink some dark some light my second layers will have the texture.
Making collage papers is easy and fun with a gelli plate. The options are endless. I'm always finding new ways to use a gelli plate.