egge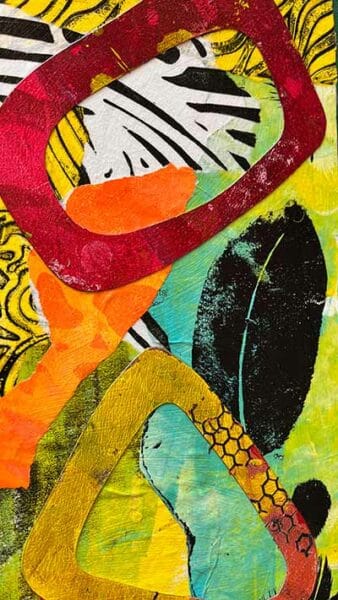 Today we're going to do some mixed media collage on wood panel board. I going to take some of those random gelli prints that I've been making and I'm going to just do an abstract collage with my color palette the color palette I live in. A little bit of orange a little bit of teal and some black and white.
This collage is on a 6×12 inch cradle panel. It's a Da Vinci Pro panel I bought at Jerry's Artarama. It has a slight texture. I'm going to start by painting the sides black. It also seals the wood and will make the finished artwork a little nicer.
I have a collection of Gelli Prints that I have created over the last few weeks and some papers left over from other projects. Always keep those little pieces. Sometimes they are perfect for a future project. I'm even going to use 2 acetate masks that I've used to make gelli prints, they have paint all over them and I love the way they look. With mixed media collage anything goes. You can have paint, pencil, crayon, markers, texture mediums, paper, fabric, glitter, and random objects. Just to name a few.
Substrates
I'm using a panel board that is pre-gessoed but you can use any kind of board or wood. If you use wood that is not pre-gessoed, seal the wood and gesso the board to you have a great surface to work on. I've even used plywood from Lowes in the past.
Some tools I'm using are:
A Catalyst Wedge
An Xacto knife with a sharp blade
A metal ruler
A self-healing cutting mat
Liquitex Gel Medium as my glue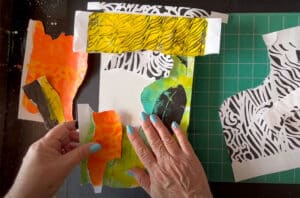 I start by cutting paper and ripping paper and laying out on my board, no glue yet. Once I have a plan I decide which go underneath and which go on top. The Gel Medium dries fast so you want to know this in advance. Then start gluing the bottom pieces first. I always continue to evaluate. My original plan sometimes changes on the fly.
I let my papers hang off on the edges. After the piece dries I can trim the excess off. I always put some gel medium on the board and then on top of the paper. The medium dries clear so it's good to make sure it's fully adhering to the board and you can use your brush to smooth it out. If that doesn't do the trick, like on large pieces of paper, use the Catalyst wedge to smooth out the paper and get out all the bubbles.
In the piece I'm using rice paper so when I layer the papers I see a little of the color underneath. It makes for a more interesting piece.
Once I've glued down all the paper I then lay my acetate masks on top and use a generous amount of medium to glue it on top. I make sure all the edges are fully sealed.
While I'm waiting for it to dry, I notice that something looks missing. I quickly find another red paper and cut out a random shape and add it to my composition.
After it's all dry, I trim the edges and seal the artwork with GAC 200. GAC works well with artwork on wood, not canvas, because it dries rigid. After it dried I was pleasantly surprised. I thought I was going to add a glossy finish but I decided I loved the way it looked.
Watch the video to see the mixed media collage in progress.