Create art with peace affirmations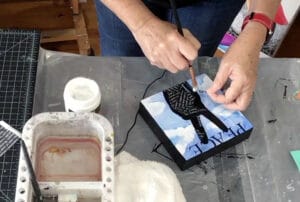 In this video I show you how to paint a loose blue sky in acrylic plus I finish up with a fabric mosaic technique I'm known for. This artwork is on a 6×6 inch deep cradle box. The fabric is printed with phrases about inner peace. The document I used to print the fabric is linked below along with the Jacquard Ink Jet Fabric link. You can also use any cotton fabric you might have with an interesting pattern.
I used my Cricut Joy to create a word stencil for the  word Peace. If you don't have  Cricut just skip this step.
Click Here to download the files needed to do this project
Here are some of the tools I used to create this artwork.
Golden Fluid Acrylics – Phthalo Blue (Green Shade) – 4 oz Bottle – https://tinyurl.com/5bsss84z
Jacquard Ink Jet Fabric 8.5" x 11" Cotton Sheets (30 Pack) – https://tinyurl.com/y5hbrmc6
Buy the Art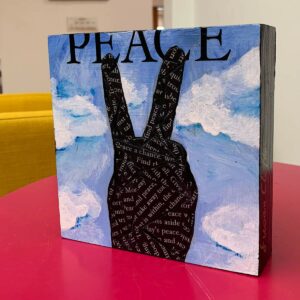 This small artwork is available here in my shop. It is a 6×6 inch small deep cradle art box (wood). The phrase in the hand symbol is the same one used in the larger version of this artwork.
Buy Now