This time last year my dream came true. I was accepted as an Artist in Residence at BaCA in Pompano Beach. The art center was a city project I was following very closely. For years, North Broward had very little in the way of art or culture. I was very excited to hear that Pompano had a cultural plan, so I participated in a small way to help. My friend Charlotte and I went to planning meetings and to the commission chamber meetings, all in the hopes that this old hotel would become a great art center someday. The City of Pompano Beach had an aggressive plan and I'm happy to say all their new art spaces are open and thriving.
Through the Cultural Arts Master Plan, a needs analysis determined that there is a high level of demand for quality cultural programming a well as adequate numbers of qualified partners to support this need. The City of Pompano Beach and the Pompano Beach CRA developed a triumvirate of new art spaces, the Pompano Beach Cultural Center and Library; The Pompano Beach Amphitheater; BaCA – Bailey Contemporary Arts; and the Ali Building.
Full circle moment
Getting a studio in BaCA was a full circle moment for me. I love the energy of the space I'm in. I have one of the larger spaces with good light. There is plenty of space to work and to store and exhibit my art. I'm pleasantly surprised that we frequently have unexpected visitors to the space. If you haven't visited us yet, please do.
Old Town Untapped
On the first Friday of every month the city puts on a great event called Old Town Untapped. An art exhibit at BaCA is at the center of the event and the surrounding area is full of Food Trucks, Artisans in tents, a stage with live music and beer tastings under the tree. It's a fun night out for the entire family. And a great way to expose children to art. As an Artist in Residence I'm in my studio during the event and I'm happy to say we have lots of visitors to the second-floor art studios.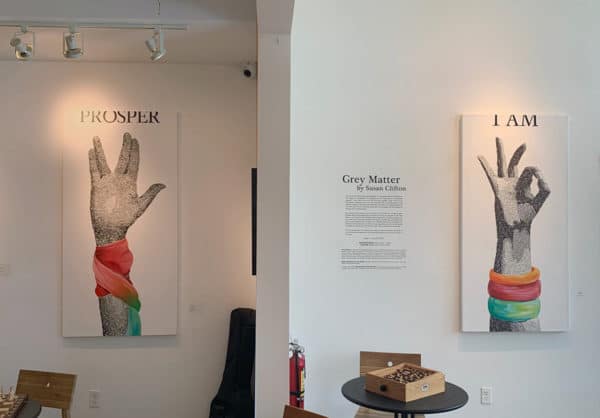 Being an artist in residence at BaCA has changed my art focus, goals and has boosted my sales. In June and July, I had a Solo Exhibit in the West Gallery and was fortunate to get great press on my exhibit and a few sales. So how am I changing my focus? I'm thinking more like an entrepreneur, an art entrepreneur. I'm taking a step back from art exhibitions that are frequented by artists and not art buyers and promoting my work online. I'm selling more art prints than ever before. I launched my art print storefront earlier this year and also sell art prints in my studio along with my originals.
Visit my Studio
I'm usually at the Studio all day on Friday and Saturday and by appointment on all other days. I can take you on a tour of BaCA and introduce you to some of the other artists in residence. We love visitors. Come see what all the buzz is about.