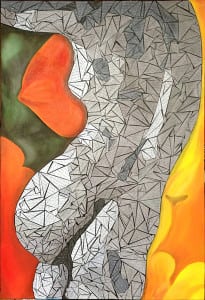 This past weekend I participated in "Nude Nite", an annual event in Tampa, Florida. They transformed a 26,000 sq ft warehouse into an exotic art event. My painting "Joyful Dancer" was selected by a jury and was among 100 works of art from artists nationwide.
The event was spectacular…not just an art event but a happening. Artworks displayed in the round under a canopy of green glowing umbrellas, 20 ft high wall video projections, architectural murals, elaborate sets and body painters painting models, robots and snow queens, contortionist, burlesque, aerialist bathed in saturated green lights, roller skating pole dancer, people hammering their hearts on a wall, performance artists hanging in the air, artistically chaotic and creative in all the right ways.
About 4,000 people attended during the 3 night exhibit. I met so many people my head was spinning. I was surprised and pleased as people would walk up to view the painting and then step in close to see the details. "What does that say?", "How did you create this?", followed by "How Cool!".
The show was inspiring. And I was happy to be a part of it.